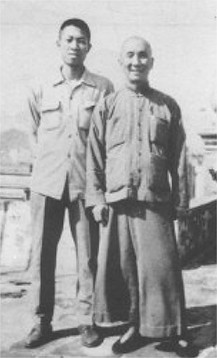 The story started from the end of 1949: I came to Hong Kong alone from Guangzhou (TN: the municipal city of the Guangdong province in southern China, north but very close to Hong Kong). In 1950 I was employed by the Hong Kong and Kowloon Eating Shop Workers General Union as the secretary. Coincidentally, Grandmaster Ip Man (TN: for easy reading thereafter, Grandmaster Ip Man will be simply referred as "Ip" wherever appropriate; there is no intention of being disrespectful) was teaching Wing Chun there, so I had plenty of time to accompany the then Master Ip and be an observer in his tuition sessions.
The then Master Ip and I had the same background – coming to Hong Kong alone at nearly the same time. Thus we echoed in sharing and felt close to each other. Ip was both solemn and humorous – characteristics admired by me. He was of high caliber in martial arts, yet remained humble, always radiating the glamour of a highly amiable Confucian – the virtue, not only admired, but worshipped by me. In just several months' time, under all the coincidentally favourable conditions, Ip and I had become close friends despite the generation gap, often appearing in a pair. Although I liked exercising – for enhancing bodily strength and health – I was not particularly fond of martial arts. Continuously urged by Liang Xiang (TN: Leung Sheung in Cantonese) and Luo Yao (TN: Lok Yiu in Cantonese), my two seniors in Wing Chun learning, also substantiated by my growing knowledge in Wing Chun, I at last devoted myself to becoming a formal disciple of Ip. Afterwards as advised by my senior Liang Xiang, I resided in the Union's place with Ip so as to seize more time for training. From then on I lived together with Ip for as long as five years.
Ip is of high virtues yet humorous, fond of using banter sentences and apt allusions, bringing knowing smiles as well as bursting laughter to many who could not contain their appreciation. Some instances are shared hereafter. Once Ip asked a disciple (a worker of the Union at that time) to buy some fresh-cut tobacco for him. The disciple took up the task, but reluctantly – he went away for more than an hour. When he returned, showing up at the doorway, Ip immediately said: "You are an earless urinal bottle." ("Urinal bottle" is a vessel for urinating into. It is shaped like a duck. There is a handle, like an ear, for easy grabbing by the elderly using it for urinating at nights. If it lacks the "ear", one must "grab its neck" instead to use it.) (TN: it is uncomfortable to use the urinal bottle by "grabbing its neck"; it is uncomfortable to ask help from somebody who is reluctant.) In another instance, someone was spouting off about things, not respecting the elders present. Ip promptly responded: "What a dog, dragging all the ancestral tablets!" (Disregarding seniority.) Ip was unwilling to seek others' help regarding his own matters unless he had to do otherwise; he would prefer to handle them by himself. Although I had been his disciple and lived together with him for years, he did not even allow me to take care of his laundry. Sometimes we would prepare meals on our own. However, he always insisted on cooking together.
Ip did not engage in hobbies during leisure time. Occasionally when he went to Macau (TN: a city nearby Hong Kong well known for its casinos and varied gambling entertainments) for sightseeing, he would always buy the white-pigeon ticket (TN: a Chinese lottery). His luck was not bad and he usually won a prize. He did have a habit, though, the habit that I mostly hesitated to accompany him to enjoy: night walks in streets. At that time I was still young and was not used to going bed late. Ip liked to take me on these walks during the nights, wandering from Tai Nan Street to the "stone pen" (TN: a big stone statue shaped like a pen, having been relocated) situated on Gascoigne Road. There we sat down to rest for about half an hour before returning. By the time we returned it would already be two o'clock in the morning. Ip said the night walks could help one fall asleep. I would almost fall asleep right away, while he still wanted to further chat with me – I could only reply up to the third sentence at most before slipping into my dreams.